Advisory Scientific Committee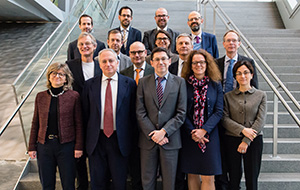 The Advisory Scientific Committee (ASC) conducts research to inform macroprudential decisions by the General Board. It consists of 15 experts representing a wide range of skills, experience and expertise.
The ASC contributes to the public debate on macroprudential policy by publishing reports. Past contributions include calls for: credible bank resolution; a European capital markets union; and enhanced disclosure of carbon-intensive assets.
The ASC is responsible for the ESRB Working Paper Series. It also awards the annual Ieke van den Burg Research Prize for young economists.
The ASC meets in Frankfurt at least quarterly. Its members contribute to a range of ESRB policy and research work, including the joint ASC-ATC groups on shadow banking and interconnectedness.
Members of the ESRB Advisory Scientific Committee (ASC)
Javier Suárez (Chair)
Centro de Estudios Monetarios y Financieros (CEMFI)
Richard Portes (Vice-Chair)
London Business School
Marco Pagano (Vice-Chair)
Università degli Studi di Napoli Federico II
Elena Carletti
Università Bocconi
Prasanna Gai
University of Auckland
Alberto Giovannini
Chairman MTS and EuroMTS
Daniel Gros
Centre for European Policy Studies
Malcolm Kemp
Nematrian
Ross Levine
University Of California at Berkeley
José-Luis Peydró
Universitat Pompeu Fabra
Isabel Schnabel
Rheinische Friedrich-Wilhelms-Universität Bonn
David Thesmar
MIT Sloan
Ernst-Ludwig von Thadden
Universität Mannheim
Josef Zechner
Wirtschaftsuniversität Wien
Andreas Ittner
Oesterreichische Nationalbank, Vienna in representation of the Advisory Technical Committee
Call for new members
We are seeking international experts in macroprudential policy and systemic risk to become members of our Advisory Scientific Committee (ASC). Members will be chosen on the basis of their general competence and diverse experience in academic fields or other sectors, in particular in small and medium-sized enterprises or trade unions, or as providers or consumers of financial services. Employees of institutions from which the ESRB General Board draws its members are, however, not eligible to apply.
The ESRB will consider applications on the basis of the selection criteria. The Steering Committee will assess applications and propose candidates to the General Board. Selected candidates will be appointed to the ASC for a four-year renewable mandate and will be required to respect the professional secrecy obligations laid down in Article 8 of Regulation (EU) No 1092/2010 and the rules on confidentiality. Selected candidates will also be entitled to indemnities and to the reimbursement of expenses related to their participation in the activities of the ASC. Candidates who are neither appointed to the ASC nor discarded in the selection process will be retained on a reserve list, which will be valid for a period of two years.
Interested candidates are invited to submit their applications no later than 23:59 CET on 23 May 2018 to the following email address: ascapplications@esrb.europa.eu
Call for expressions of interest