Advisory Scientific Committee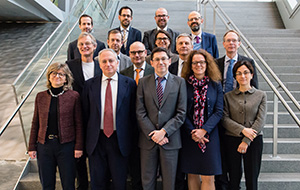 The Advisory Scientific Committee (ASC) conducts research to inform macroprudential decisions by the General Board. It consists of 15 experts representing a wide range of skills, experience and expertise.
The ASC contributes to the public debate on macroprudential policy by publishing ASC Reports and ASC Insights. Past contributions include calls for: credible bank resolution; a European capital markets union; and enhanced disclosure of carbon-intensive assets.
The ASC is responsible for the ESRB Working Paper Series. It also awards the annual Ieke van den Burg Research Prize for young economists.
The ASC meets in Frankfurt at least quarterly. Its members contribute to a range of ESRB policy and research work, including the joint ASC-ATC groups on shadow banking and interconnectedness.
Members of the ESRB Advisory Scientific Committee (ASC)
Thorsten Beck
Cass Business School, London
Bo Becker
Stockholm School of Economics
Willem Buiter
Independent Economic Adviser
Elena Carletti
Università Bocconi, Milan
Stephen Cecchetti
Brandeis International Business School, Waltham Massachusetts
Kathryn Dominguez
University of Michigan
Pablo Hernández de Cos
Banco de España, representative of the Advisory Technical Committee
Sebnem Kalemli-Özcan
University of Maryland
Malcolm Kemp
Nematrian Limited, London
Giovanna Nicodano
Università di Torino
Martin Oehmke
London School of Economics
Loriana Pelizzon
Goethe University Frankfurt
Richard Portes
London Business School
Javier Suarez
Centro de Estudios Monetarios y Financieros (CEMFI), Madrid
Lars Svensson
Stockholm School of Economics
---
Declarations of interest (available in English only)