Det Rådgivende Videnskabelige Udvalg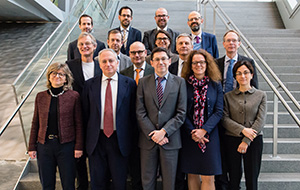 Det Rådgivende Videnskabelige Udvalg (ASC) udfører forskning, som kan danne grundlag for Det Almindelige Råds makroprudentielle beslutninger. Udvalget består af 15 eksperter, der repræsenterer en bred vifte af kvalifikationer, erfaringer og ekspertise.
ASC bidrager til den offentlige debat om makroprudentiel politik ved at offentliggøre rapporter. Blandt udvalgets tidligere bidrag er opfordringer til en troværdig bankafvikling, en europæisk kapitalmarkedsunion og øget oplysning om CO2-intensive aktiver.
ASC er ansvarlig for ESRB Working Paper Series. Desuden står udvalget for den årlige uddeling af forskningsprisen "Ieke van den Burg Research Prize", som tildeles unge økonomer.
ASC mødes mindst en gang i kvartalet i Frankfurt. Udvalgets medlemmer bidrager til ESRB's politik og forskning på forskellige områder, bl.a. de fælles ASC-/ATC-grupper om skyggebanksektoren og indbyrdes forbundethed.
Medlemmer af ESRB's Rådgivende Videnskabelige Udvalg (ASC)
Javier Suárez (formand)
Centro de Estudios Monetarios y Financieros (CEMFI)
Richard Portes (næstformand)
London Business School
Marco Pagano (næstformand)
Università degli Studi di Napoli Federico II
Elena Carletti
Università Bocconi
Prasanna Gai
University of Auckland
Alberto Giovannini
Formand for MTS og EuroMTS
Daniel Gros
Centre for European Policy Studies
Malcolm Kemp
Nematrian
Ross Levine
University of California at Berkeley
José-Luis Peydró
Universitat Pompeu Fabra
Isabel Schnabel
Rheinische Friedrich-Wilhelms-Universität Bonn
David Thesmar
MIT Sloan
Ernst-Ludwig von Thadden
Universität Mannheim
Josef Zechner
Wirtschaftsuniversität Wien
Andreas Ittner
Oesterreichische Nationalbank (repræsentant for Det Rådgivende Tekniske Udvalg).